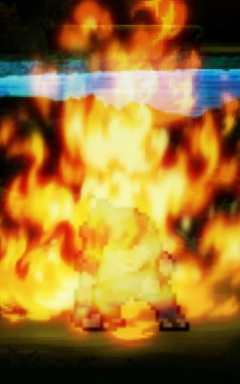 If you think you know me, then you are truly mistaken.
Back where I'm from, I was forced to go with my classmates to a museum filled with costumes and clothes. It wasn't quite my cup of tea until I met a woman who told me that she could tailor something for me for a small fee. So, I asked for a scarf that resembled the burning flame of a phoenix. After receiving it though, things began to go south (Mostly because of my emotions back then). My life was already a living hell and ending up in another world was the last thing I would've expected.
But as I would find out, my life experiences and the things I've learned in the course of my long life have forged me into the being that I am. The tortured phoenix with a burning heart and spirit.
I am Ember Valkyr. The flame that will be the last thing you'll see.
Displaced story following the perspective of one of my own characters this time. One that I came up with. Thanks Fiction Fanatic and ElementBrigade (along with many other people) for your inspiration.
Credits to everything shown. Artwork made by me. It's a partial League of Legends crossover because of one of the characters, but that's it. League of Legends belongs to Riot Games
Featured: 8/7/2020 (Thank you guys so much!)
Chapters (25)