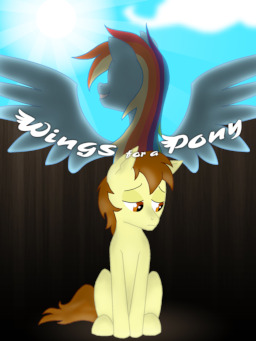 Source
Clay has always looked up to his mother Rainbow Dash, even though they aren't related by blood. Yet he can't help but feel that he could only truly belong with her if he was a pegasus instead of an earth pony. Clays obsession with wanting to fly will send him on a journy he never thought possible and teach him that family doesn't have to be blood deep.
This is my first fanfic, give advice and critacism, but please go easy.
Special Thanks to Carnelian for the cover art. And my brother for getting me into fanfiction.
This story was proofread by Tsubaki Rehooved and BookPlayer
MLP: FIM is owned by Hasbro and the HUB
Listen to the audio reading by Mr.Fail55 aka zmuscle
Connected stories are:
Wings for a Pony: Becoming Mommy
Wings for a Pony: Dinky's Sky
Wings for a Pony 2
Chapters (31)