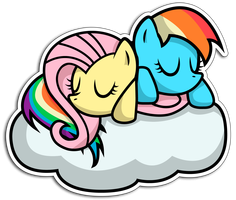 Source
It's time for Ponyville's annual Storm Day, and once again Rainbow Dash needs to be on point. Except this time, she isn't. And one little mistake could cost her one of her best friends- and the unspoken feelings between them.
If this seems familiar to you, that's probably because it is. This was the first story I ever submitted to the site, but it's now being almost entirely revamped thanks to a collaborative effort between myself and the awesomely awesome DJ GarV the Expert.
It'll be a grand journey, I tell you. Come along!
Chapters (4)