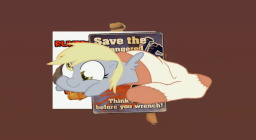 This tale (or should I say, "tail") is about what happens when Derpy gets a hold of a giant sock, which very quickly becomes her favorite thing ever... But not everything is fun and games, as a pair of ponies have their own eyes set on that very same sock, which could lead to disaster if something isn't done soon.
This is just some comedic fluff for everyone's reading pleasure. Shades of Derpydash and Lyrabon abound here.
Rejected by Equestria Daily on 2 January 2013.
Chapters (1)