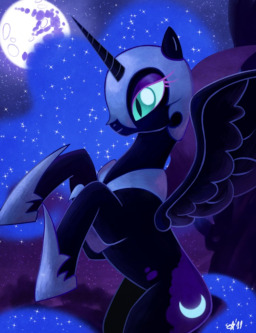 This is the first story of The Nightmareverse. Now featured on Canterlot's Finest.
In times past, ponies would keep their fillies from being bad by telling them that if they didn't behave, Nightmare Moon would come back and get them. Of course, Nightmare Moon hasn't been back since the Elements of Harmony defeated her in Celestia's presence.
Twilight has had dreams of Nightmare Moon's return since her defeat, but she never thought they would actually come true. Then one day, she receives a rather odd visitor... And the chain of events to follow threatens to tear asunder everything that she holds dear.
(Takes place after A Canterlot Wedding. Also disregards events in the MLP graphic novels.)
Edited/pre-read by TheCloudtop and Chaodiurn. Featured four times, most recently on 22 July 2015!
Chapters (19)