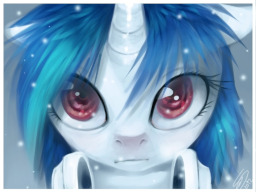 The first time I saw her eyes, they struck a chord within my soul. One that I have never experienced before. It was like I was coming alive for the first time.
But it was only a glimpse, and then she was gone. I am not going to let this go, though. I will discover who she is, why she is here... and why fate almost brought us together.
My name is Octavia, and I will stop at nothing to find her.
[Rejected by Equestria Daily on 12 December 2012. Now featured on Canterlot's Finest.]
Chapters (1)