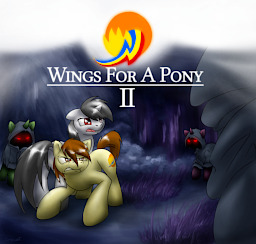 Source
How far would you go to save someone you love? That's the question that Clay must answer as he faces a gauntlet of physical and mental toutures. Clay is now a proud father of two ponies, and is trying to connect with his adopted daughter Evening Star. A gifted unicorn filly who has unstable magic. As he tries to prove to her that he loves her with all his heart however Evening Star is abducted by a unicorn cult, Clay along with his wife Firefly and his friends Dinky and Sky Tearer must face an army that threatens not only Equestria, but the very way unicorn's, pegasi, and earth ponies co exist. Clay makes a vow to bring his daughter back to her familly and stop the uprising...no matter what the costs.
The official sequel to Wings for a Pony.
Warning: It is highly recomended that you read Wings for a Pony first for full comprehension. There will be spoilers for the first story if you have not read it.
Proofread by Starfall
Special thanks to Concier for providing the cover art and to cmdrhellyea for the original cover
Chapters (7)