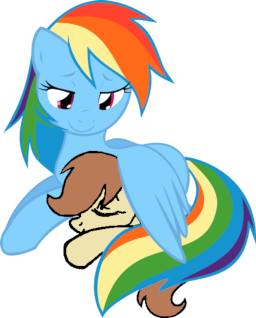 Dash loves her son Clay and a has become a respectable mother. But what were things like before she accepted her responsibilities as a parent? How did she react to raising a foal on her own? How did she come to be called mommy?
This is a in between story of Dash raising Clay in Wings for a pony, taking place after chapter 2 and before chapter 3. Read Wings for a pony first before reading this story for full comprehension.
This story was proofread by: Bookplayer
I do not own the image, nor did I draw it. Credit for image goes to UP1TER, Teh Resistance for clean up and coloring.
Credit for altered image goes to Vidaldas.
Chapters (7)