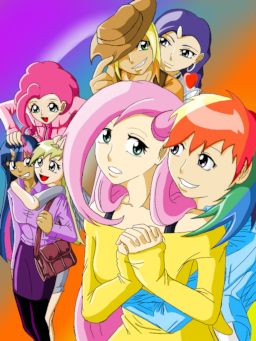 The mane six are about to find out hard, and how wonderful, high school can be when love is in the air. There will be crushes, heartbreak, shipping and a whole lot of outright strangeness.
So yea, another story set in a high school. I don't know why but I just really love this setting. The only ship that I will reveal at this point in time is Flutterdash. As always, if you ever notice any spelling or grammar mistakes please tell me.
Special thanks to BronyInvestigator for drawing the cover art. You can see more of their stuff here and here.
Chapters (11)