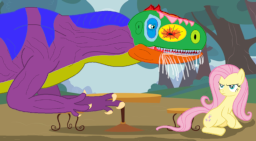 Narrated by Optimus Prime of the Autobots!
Equestria, a magical land ruled and controlled by ponies, has been at peace since Tirek has been defeated by Princess Twilight and her friends. She is now the newly titled Princess of Friendship, and with her friends; Applejack, Rarity, Pinky Pie, Rainbow Dash, and Fluttershy, usher in a newfound era of goodwill to all pony-kind…
However…
In the distant past, in another dimension, lies an ancient Earth. Upon this planet lives the mightiest and most successful race of creatures ever known to the human race; the Dinosaurs. Unlike Equestria, Earth was, and still is, a violent and chaotic place where only nature has absolute authority of it's varied lifeforms. Fate was cruel when a extra-terrestrial event saw the end of the mighty dinosaurs…
But the cosmos had other plans…
In a freak of nature, five different species of dinosaurs called the Dromeosaurids, or Raptors, wake up in unfamiliar territory, a whole new world for them to thrive on…
And that world is Equestria!!!
Is it the start of something big? Will friendship be enough to control creatures of pure, unrestrained instinct? Can Twilight and friends crack the mysteries of what is happening to their world??? Find out NOW!!! Find out in...
My Little Pony - The Age of Dinosaurs!!!
This is a remake of Dihinner's 'Raptor' story. More Mesozoic animals, more wonder, more fear, than anything before, or possibly after. I eagerly await reviews and comments, and am also waiting for suggestions from you brilliant writers...
And yes, I made that picture, background found on Google, Fluttershy by someone on DeviantArt, and the dinosaur, an Allosaurus, I made from scratch. I hope to replace it with a better, more fitting one in the future...
Here is a couple spin-offs of this story (expect more being put in here...)
My Little Pony - Giants of Patagonia
My Little Pony: The Guardians of Equestria by Laci the Hunter
The Age of Dinosaurs - Teratophoneus by Hirohito
Chapters (19)