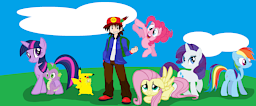 Source
(SOFT-REBOOT SEQUEL COMING *UNDETERMINED DATE*)
---
Welcome trainers and ponies to the world of Pokémon…
Equestrian Dimension; It was just an average everyday kind of noontime that Twilight and her friends are having a peaceful picnic, just hanging out…
Pokémon Dimension; In the Hoenn Region, a veteran teenage Pokémon Trainer named Sean and his three friends, Rosa, Brendan, and May, prepare themselves to participate in the biggest event in their world, the Pokémon International Championships…
However…
When an inter dimensional rift caused by a clash between an unseen foe and the Legendary Pokémon of Time and Space (Dialga and Palkia) appears, they, along with several other trainers and Pokémon, appear in Equestria, connecting the two worlds together for an unknown amount of time. This seemingly permanent connection brings forth powerful legends and unparalleled disasters into the peaceful country.
What adventures will be born from this adventure, and who or what is this invisible force of evil? Only Sean, Twilight, and their friends and allies can solve this mystery and end this period of unrest…
The only hope for the two worlds…
Rests on their shoulders…
I came up with the story after playing Omega Ruby... Plus, I have an idea for the story that you readers can be a part of...
Just to let you know that on Equestria's side, it takes place during season 4 in an alternate timeline that grows further away from the show's canon the further the story progresses. On the Pokemon's side, takes place strictly in my imagining of the game's universe, only a minor, repeat, MINOR, inclusion of the anime's universe.
Chapters (13)