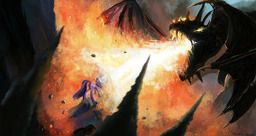 The end is coming.
Celestia has long known these final days would come. As the last remnant of the old gods, she has done all she can to save Equestria from its destined, bloody end.
Now all she can do is wait.
For it falls to the hooves of the Elements of Harmony to lead Equestria into battle against its greatest threat yet- the Twilight of the Gods.
Chapters (2)