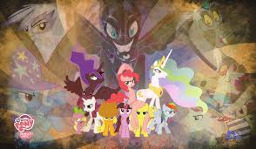 Sombra has won his desperate struggle agains the Princesses, becoming the supreme leader of Equestria and starting a dread tradition known as the Hunger Games.
Rarity has never liked fighting- or the outdoors, or anything that involves getting dirty. But when she steps up to save Sweetie Belle, she'll be thrust into an arena where kill or be killed is the order of the day.
Rainbow Dash has always dreamed of winning the Games- but she's been blinded to the reality of it long ago. Does she have what it takes to be a killer? Or are there other roads for her?
Twilight Sparkle's always been a loner, but she may find friendship in themes the most unlikely place. But in the arena, where friends can become enemies in a heartbeat, who can Twilight really trust?
Sweet, shy Fluttershy wouldn't hurt another pony to save her life. But when she finds herself in the arena, facing someone close to her heart, she'll have to do just that.
After he parent's death, Applejack has always been the provider of her family. But their lives are in jeopardy when she gets drawn in the reaping. With everything riding on her back, can Applejack win the games- with her sanity intact?
And Pinkie Pie only wants to bring light to the grim streets of District Twelve.But in the arena even the sunniest personalities can dim.
The Hunger Games have begun.
Chapters (3)