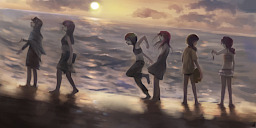 Source
It's been a month since Twilight Sparkle, human student, made friends with six strangers and saved Canterlot High from the Sirens. Only, with the danger gone and a semblance of normality restored, she wonders what it is about these girls, so disparate in nature, that makes them such good friends, and what her role is as their friend.
It's not helping that another Twilight Sparkle reunited them first, almost half a year ago, but her friends are determined to show her that she belongs, and that they like her.
Cover art by TIGER-TYPE. Used with permission.
Edited by Minds Eye
Pre-read by Don't Look at my Name Bro, ZOMG, ZodiacSpear, Sholan, Grand_Moff_Pony
Chapters (16)