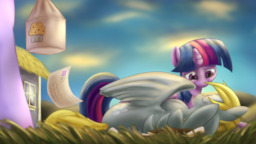 Source
Hearth's Warming Eve.
A night to celebrate new beginnings, to be with family and friends, and welcome the new year.
For Derpy Hooves, a few things are missing.
Editing by Minds Eye, prereading by ZodiacSpear
Rated T for kissing, drinking.
Thank you kindly to Tchernobog for permission to use a different cover art, originally for Mood Wings! Give it a read if you haven't already.
Art by Im_not_sue.
Chapters (1)