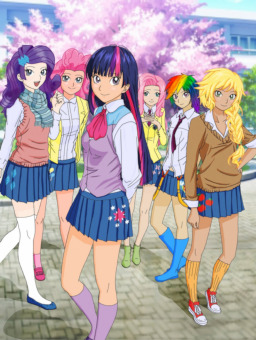 Source
*Please note that the humans in this story still have their pony characteristics. E.g unicorns have a horn and pegasus have wings*
~IF YOU HAVE ALREADY READ THE FIRST 3 CHAPTERS I RECOMMEND YOU TO READ THEM AGAIN AS I WILL BE MAKING THEM LONGER!
The mane 6 are having a sleepover and they play truth or dare until a certain unexpected visiter shows up making things a bit more awkward.
Twilight knows that something particular is going on during the sleepover, and it's up to her and her friends to try and solve it before the "voice" does anymore harm.
Soarin needs to find a way to impress Dash before he think she will "break up" with him.
The rest of the gang are having fun, PLAYING FIND OUT YOUR SECRETS OR DARE!!
Warning: This story includes fluff and serious mystery.
-This is my first fan fiction!
Please leave a comment!
-Dashie Potter <3
aka Phoenix Moonshine
Chapters (16)