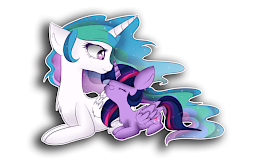 Source
Hearts and Hooves Day fast approaches. For Twilight, her friends are shocked to learn she's never had a date. For Celestia, Luna reminds her that she's not had a date in, well, a time period she would rather not get in to. Luna conspires to push the two princesses together. Will a so-called "practice date" turn into something more?
---
Now with a sneaky little interquel in the form of Celestia Wants To Do Naughty Things To Twilight Sparkle. A mature treat for those who like that!
---
Took second place in the Fifth Bimonthly Twilestia Contest.
Chapters (7)