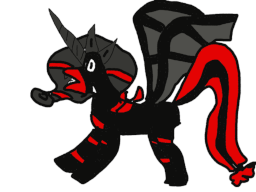 Source
The black&red Alicorn with a tragic past stays confident despite the odds stacked against him. He is protective and liked by his peers. Even in the worst possible situation, he stays in control. Or does he?
*This story serves as a reminder to the fandom that the judgment of fics shouldn't be based on superficial aspects such as cover art or the presence of a certain character. Stories should, instead, be judged on their quality. Read first, judge after.
[You may also enjoy the Youtube reading and mp3 download that are available for this story.
This story was approved by:
Goodfic Bin
Olympus
Here's what the readers are saying about it:
10/10 ~ Flora Blossom
Wow, this was intense! I like it! ~ Mr Swanky Hat
This is interesting, very interesting ~ Drayco Meowfoy
Good plot, solid writing ~ monokeras
Hmm... I have to admit, with the premise and all the obligatory "black & red alicorn OC" elements thrown in, this was pretty impressive. ~ Dark Avenger
Bad has been far more ambitious here than by just making fun of a stupid trope: by taking it seriously, he's made a story that stands out a lot more than just senseless jokes. ~ HapHazred
Had no clue what I was reading first but then I get to the ending it all came together. ~ Dapper Guy
Really good. Shows how some people can be so brainwashed as to genuinely believe that slavery and tyranny is good, productive, order, and freedom is laziness and selfishness. ~ Europa
This story plunged me into the abyss of depression and made my insides turned outside. ~ Hungryman
Chapters (1)