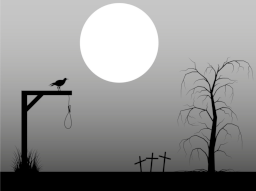 There is a legend among the Outlaws of Equestria's southern deserts. They tell of a ghost, a blind pony dressed in black, carrying a raven on her shoulder. For Silver Steps, this legend is all too real. Once a young colt with big dreams of becoming an Outlaw, now he is on the run, endlessly chased by the mysterious hangmare.
But what could he, a hapless excuse for a stallion who wouldn't hurt a fly, have done to invoke the hangmare's wrath? Perhaps the answer lies in the minds of the dead, for whom the hangmare seeks to avenge?
---
Inspired by the Volbeat song, "The Hangman's Body Count". Rated T for moderate gore and suggested suicide. Happy Nightmare Night, everypony!
Chapters (1)