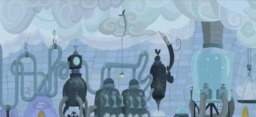 Weather is a tricky thing to manage, which Rainbow Dash discovered first hoof when she tried to stop winter. As part of her reparations, she must leave Ponyville and take a one-week mandatory retraining course in Canterlot.
Enter the Sunny Daze weather team, a trio of Pegusi claiming to be the best weather workers in all of Manehatten! But will their fancy new machine really be enough to please the Ponyville populace? Or will their efforts create an even bigger disaster? Well, dear reader, that is for you to find out!
---
Rated T for mild innuendo and rude humour. Set directly after the events of Tanks for the Memories.
Chapters (1)