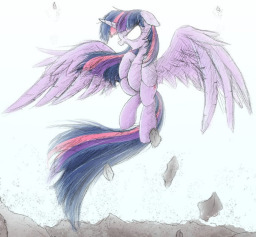 Source
After Twilight's stream of successes, she's confident that nothing can go wrong. Is she due for a lesson?
The Mane Seven are on a mission to spread friendship across Equestria. It sounds easy enough, but should they let their guard down?
Twilight is confident that she can cope with any situation. Maybe she's right and there really is nothing to worry about... Maybe.
[You may also revel in the Youtube reading (Chapter 1, Chapter 2) or mp3 download (Chapter 1, Chapter 2) that are available for this story.]
This story won a contest:
The Pony Writing Debauchery of Uncomfortable Situations
It was approved by:
Goodfic Bin
Black-light's Library!
Fimfiction's Addicts
Here's what the readers are saying about it:
Dude whoa.... That was powerful. It kinda reminds me of "If you love something" let it go. The type of pony that Twilight is I could imagine that losing her friends would make her go insane, and I know she'd do anything to still be with them. Great story. Mad I didn't hear about it until now. ~ Man on the Moon
If Twilight can't find a way to save her friends, she'll make a way. And that works out about as well as one would think. ~ FanOfMostEverything
I hope Twilight can let go... eventually. ~ StormyVenture
I liked this story. It was heartbreaking, a bit confusing (in a good way), and overall enjoyable. ~ Heart Felt
it had the nerve to make me experience something you twats call "the feels," but a nice enthusiastic walk in the woods solved that problem. ~ DR_LaZer
made me cry… ~ deli73
I cried. I didn't shed one tear, but a thousand. ~ Crystal_Chaos
Great story, definitely deserves the tragedy tag. ~ MustacheMerlin
This story really does earn it's tag as it presents a situation that cannot be won and that has no positive outcome, which is part of tragedy in it's strictest sense. ~ HapHazred
Brilliant. Both her plan and the story. ~ Unbridled Dolly
I love it when a story comes together--and I say that this one did, at least for philosophical egghead dorks. ~ Mahayro
I love the entire premise and the ending was perfect. ~ Curify - ChasingVerse
Chapters (2)