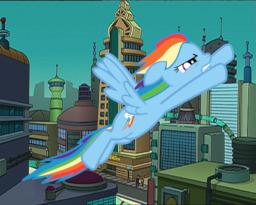 The Planet Express delivery company takes a delivery to a planet called 'Equestria'. Of course it doesn't go smoothly. It never does with a crew like theirs. What happens in Equestria doesn't stay in Equestria, though, and their adventure is far from over when they leave... because the adventure of a certain six ponies is just beginning.
A Futurama and My Little Pony crossover, featuring all your favorite characters from both series. Written (more or less) from the perspective of a Futurama episode, where the MLP universe is contained in one solar system in the Futurama universe.
When two of the best cartoons in the world collide, buckle up and get ready for one heck of a ride!
Many thanks to my proofreaders, GingerLuna, Knight of Cerebus, and JeffCvt. They've helped a lot in polishing this fic.
-Cover image by yours truly, using stock vectors and screencaps
Chapters (3)