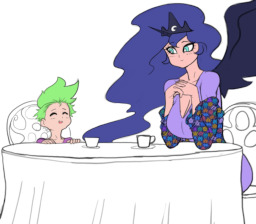 Source
Twenty-five years in prison is a long time for anyone. Maybe less for an Alicorn-Blood, but a lot of things can happen in a quarter of a century. Like finding out an adopted nephew. Will Luna be able to come to terms with her inner demons? Perhaps with the aid of her new nephew she might.
All characters are humanized and of legal age!
*Rated Teen due to themes, a few scenes, and some language*
Story commissioned by Anonymous!
CoverArt by franschesco, one of my personal favorite artists, you can find him on Derpibooru.
*If you are feeling generous you can buy me a Ko-Fi! or support me through Patreon*
Chapters (1)