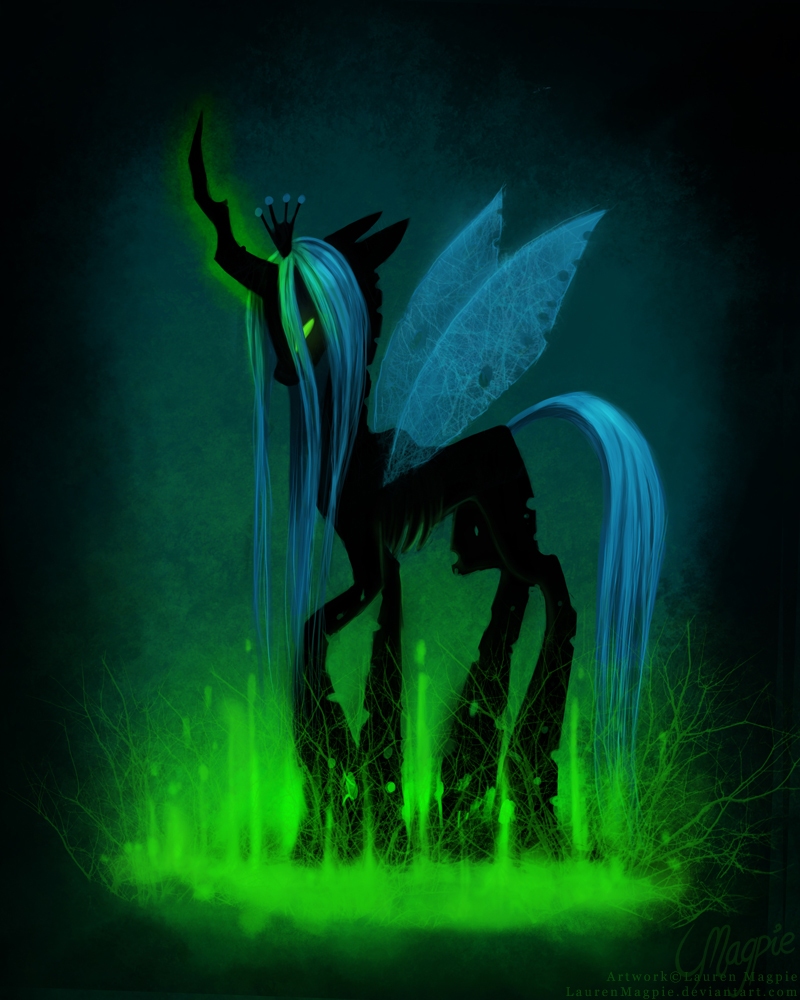 I don't know about you, but sometimes even when a story is done and gone, I can't help but continue thinking about it. Pondering what might've happened next and what might've happened to certain characters.
Let me say this early on: this particular story is done and I have no interest in revisiting it or continuing it. But that doesn't mean I can't ponder about it and let you hear my ideas.
SPOILERS! IF YOU HAVEN'T READ THE STORY, YOU PROBABLY SHOULD BEFORE READING THIS!
The ending to the story is semi-opened ended. Either Celestia died or Chrysalis did. In my original vision, Celestia had been bested and it had been Chrysalis that actually returned to Nightingale. A slight downer/happy ending. Then everyone commented how that didn't make sense since the sun rose the next day and all I can say to that is.... oops? Clearly, an editor would've pointed that out for me. Obviously, I don't use an editor because I'm lazy and impatient.
One comment made me change my mind on the ending, though. By Loveless.
I think Celestia in the end is really be Celestia. I think Chrysalis went to fight Celestia and lost to her. And before she was killed by Celestia who have no mercy left for Chrysalis after what she done to all pony she loved. She asked Celestia for one last mercy and plead her to take care Nightingale. She told Celestia the password that only secret to her and Nightingale (Would I lie to you?) and where she left her. She asked Celestia to take care her. One last children of her that Changeling like her "love" the most...And once Chrysalis gone. Celestia went to the forest and meet Nightingale here.

And I think that is a reason why the sun still go down and why this Celestia said "I know someone's out here.". Because Celestia might know the location from Chrysalis. But not accurate place where this filly be. And she said "You're safe now, little one. I promise.". Because Celestia think Chrysalis is dangerous to this filly. But since she gone. Filly will be safe now...
So, yeah, Chrysalis is dead and Celestia is the one talking to Nightingale at the end. Here's a play-by-play of events as I would see them unfold.
CELESTIA'S THRONE ROOM - NIGHT

Chrysalis is disguised as the guard she killed earlier. She manages to get Celestia alone with vital information. Celestia isn't having any of that.

CELESTIA: You were supposed to report in every two hours.

CHRYSALIS/GUARD: I was occupied. I thought I made a discovery, so I--

CELESTIA: Is this really all there is to it? Is this how it all ends?

CHRYSALIS/GUARD: I... I don't...

CELESTIA: Tell me he didn't suffer, Chrysalis. Not like the rest of them. (She wipes at her eyes.)

CHRYSALIS/GUARD: Not like you will. (She smirks. Her eyes burn green and she turns back into herself. She lunges at her.)

The doors on both ends of the room slam open and two dozen guards pour in. A fight starts. Chrysalis slays a number of guards while being stabbed. Celestia does the most damage to her. Chrysalis isn't focused anymore -- not when she's so close to her goal.

In the end, Chrysalis is blasted into a wall and left broken on the ground. Coughing up blood, she sluggishly crawls toward the door. Another six guards hurry inside and point their spears at her throat. She stops. She smiles faintly, but not at anyone in particular.

Celestia stands overtop of her, shaking with rage.

CELESTIA: Any last words?

Now Chrysalis' eyes start to water.

CHRYSALIS: Don't... don't hurt--

Celestia shakes her head.

CELESTIA: I think we're far beyond begging now. After what you did. After who you killed.

CHRYSALIS: Don't hurt... Nightingale. She's all alone... she... she had no idea--

CELESTIA: Who is she? Another spy? Another murderer like you?

CHRYSALIS: She's in the woods. Tell her... tell her you'd never lie to her... (Ignoring Celestia.)

CELESTIA: Tell me who she is, damn it!

CHRYSALIS: She's my daughter.

Chrysalis' faint smile fades and her head drops. She's left staring at the floor as the light leaves her eyes.

FORREST - EARLY MORNING

Same scene from the ending of the story. Only from Celestia's POV. She's searching for a changeling in the woods, but finds Nightingale instead. After calming her down, she places her on her back and they fly back to the castle.

CASTLE - EARLY MORNING (So here's where all the new stuff is...)

Celestia hands Nightingale over to a nurse and a staff wizard. The nurse gives Nightingale a checkup while the wizard does a test to determine if she's actually a changeling in disguise. When the wizard goes to tell Celestia that she's actually just a filly, the nurse summons up a giant bowl of soup to give to Nightingale. Living out in the woods for so long, the filly is undernourished and the like.

Nightingale takes one sip and says she's done. The nurse then promises her if she finishes her soup, she can have a slice of cake afterwards. (It's one of those super big chocolate pieces you only see in movies.) Nightingale, having never had cake before, lights up by the sight and chows down on her food.

Thinking Celestia is actually Mommy in disguise, Nightingale asks about her.

NIGHTINGALE: Does she own this whole place? Even you? Is she a Queen? Why is she only a Princess? How many baths a day does she take to stay so white?

The nurse, meanwhile, is a little hesitant to answer anything. She doesn't really know the full story yet.

Anywho, the nurse lets slip that Celestia's room is passed some guards and behind a locked door in another wing before she carries Nightingale off to bed. (It's one of the giant beds that make Nightingale look like a teddybear by comparison. Super cute shit.) Nightingale sleeps the whole day through -- having had such emotional ups and downs recently.

CASTLE - NIGHT

Nightingale later wakes up in the middle of the night and vaguely remembers all that happened that day. All she knows is that Mommy is impersonating someone new and she misses her terribly.

So starts a little mission where Nightingale either lies, sneaks, or steals her way around the guards and the castle. Having lived with Chrysalis for so long, it comes as second nature. In the end, she steals a ring of keys from a guard and enters Celestia's wing and searches for her.

When she finally does find Celestia, she crawls into her bed and immediately wraps herself around her, startling Celestia awake.

NIGHTINGALE: You had me so worried, Mommy. You left me all alone. I'm just happy we're inside now. And that you're safe.

A moment passes. Celestia really has no idea how to respond to this.

NIGHTINGALE: You can show me your real face now, Mommy. I don't think anyone will bother us. That nice pony that gave me food said you were really important and stuff. So they wouldn't wanna bother you. Don't you want to have your real face on now?

CELESTIA: I... I think I'll stay like this. Practice and all that.

NIGHTINGALE: Okay, Mommy. Whatever you think's best. (She hugs her tighter. More cute shit.)

So the next day, Celestia tries to make a game plan of it all. Are Nightingale's parents still around? Possibly not. Does she try and give her to some other foster parents? Does she keep her after all?

And if so, does she tell her that Chrysalis is actually dead? Does she keep it a secret? Does she actually pretend to be Chrysalis the entire time? Does Nightingale later find out that Celestia killed her Mommy and seeks revenge?
And here's where I really don't know where the story could go. I just had those two scenes in mind (the bloody one and the cute one) with the option of continuing.
That being said, I won't, because I think the story is fine enough as a one-shot. So that's about it.
Ridiculously long ramble over.