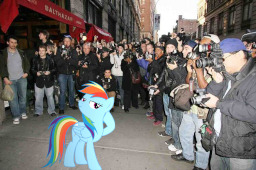 Source
Another Human in Equestria story.
Inspired by the "You Are Now Rainbow Dash" post over at Equestria Daily.
The last thing Mike remembers is a friend of his trying to introduce him to some girly kids show. Now, inexplicably, he's a flying blue pony in a world full of technicolor ponies. Can he figure out what's happened? Can he get home? Can this all happen without any shipping?
Edit: Image by HAchaosagent on deviantArt: Rainbow Dash loves the attention
Chapters (16)