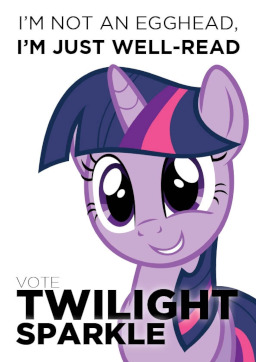 I am Breaking Scoop, news editor for CNN (Canterlot News Network). Recently, I was afforded the great opportunity to interview Twilight Sparkle and her friends about their views on politics.
This group of national heroes has saved Equestria no less than half a dozen times, and includes not only a full-fledged Princess, but also the Hero of the Crystal Empire, a Wonderbolt, and arguably Equestria's most famous designer. Naturally, I was thrilled to have the chance to hear about their well-reasoned views on the issues that impact ponies' everyday lives.
Boy, was I surprised at what I found! These are their philosophies.
This is a sort of semi-dark satire about political roles. What would they look like in Equestria (there are a lot of political themes present in the show)!? Sure to be a treat for political junkies!
Chapters (9)