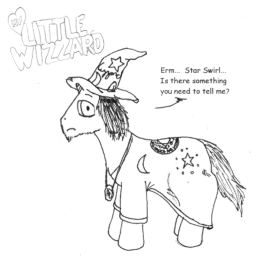 Source
Star Swirl the Bearded is lost. Very, very lost. He was certain the world was round -- or at least a hemisphere -- and not, as it now appears to be, flat and riding on the backs of four elephants, themselves riding on the back of a massive turtle, swimming through the vast expanses of space.
He's going to need a lot of magical help to get home, and the Disc is going to need help to deal with the strange creatures that followed him through from his home world - creatures whose icy nature threatens to bring about the Apocralypse.
Fortunately, the first person he meets is a wizard. He even has "Wizzard" written on his hat...
Now has a sequel!
Chapters (18)