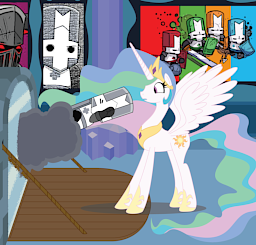 "By now you have surely heard the tale of how Princess Twilight Sparkle travelled to another word by means of a magical mirror? What if I told you that there were more of these mirrors scattered throughout the land? Each leading to mystical and strange lands found only in your wildest dreams. (I mean seriously, what kind of precursor race would master inter-dimensional travel and only use it once?) What if I told you that I had in my little shop here one of such mirrors? One that led to a land of small squarish creatures that partied, drank and fought for simple enjoyment?"
This is the story of an unfortunate Gray Crasher and his adventures in the magical land of Equestria.
So yeah this will probably feature quite a number of MLP characters but I'm only including some in the bio so as to not break a perfectly good system.
As for the cover art that was done by me and can be found - BOOM!
Pre-reading and Editing advice are done by Mixtrak. He's a great guy and you should totally go check out his story
Chapters (7)