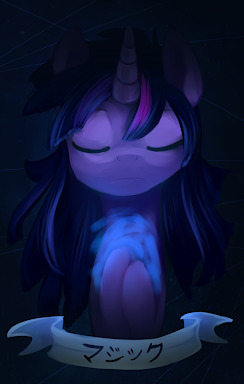 Source
All magic vanished from the world when Discord fell. Along with it, the might of the unicorns and alicorn princesses dwindled. Even the Elements Of Harmony lost their potence and were lost in the sea of time.
Left without the guidance of the alicorns and the magic of harmony, the ponies soon raised Equestria to a country ruled by science and industry. But still, some remain who dream of magic.
As the mysterious beast Magia threatens the world, a sickly filly named Twilight Sparkle and five friends take it upon themselves to delve into the caverns beneath Canterlot to find the burial ground of magic, the Lunarium.
---
This is an ongoing Rewrite. The story in and of itself was finished in April 2013 but needed some massive editing. This new version features all new scenes, better descriptions, less mistakes, 3D-Effects, and a gratis code for the DLC-Character "Emo Pie", which on any other occasion would've been a pre-order bonus only.
Or something.
Current Coverart by: kmrshy, go check 'em out.
Also thanks to everybody who helps/ed editing this story, no matter if you did only help me with one chapter or all. Thank you for turning this rewrite from another mess into a brilliant story!
Chapters (31)