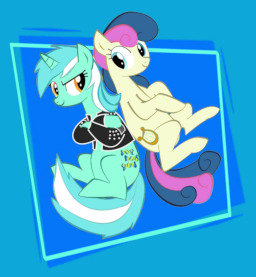 This story is a sequel to Harpflank and Sweets
---
(Don't worry, you don't need to have read the previous one to enjoy this!)
For the past few years, Lyra and Bon-Bon as the heroic Harpflank and Sweets have defended Metropony City from various vile villains. However, all good things must come to an end.
Bon-Bon is worried about an unexpected Cutie Mark switcheroo between her and her partner. Lyra is worried about how 1980s budget sci-fi show Blake's 7 ended. They really should both be worried about the sinister machinations that threaten to destroy M.A.R.E once and for all.
They've been looking out for the city, but who's there to look after them? And is King Sombra, the disappointing villain of the difficult season 3, really as dead as he appears?
Robots! Explosions! Muffins!
Tune in for another exciting adventure of... Sweetflank and Harps?!
Chapters (3)