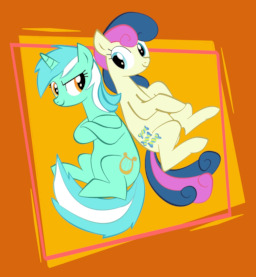 Source
The bustling city of Metropony is under siege by Luna and her villainous assistant Trixie's army of deadly Lunatrons! Can Lyra and Bon Bon's crimefighting prowess and vast supply of heavy munitions keep the city safe for yet another week? Find out in this exciting episode of... HARPFLANK AND SWEETS. Warning: Not suitable for under-5s or those of an unawesome disposition.
- Now with added side-story, by supersheep64! - Harpflank and Sweets: The Lost Episodes
- Now with more added side-story, by RTStephens! - Haprflank and Sweets: Season 1
- Now with further more added parody, by Cold in Gardez! - Harpflank and Sweets: A Very Special Episode
- Now with extra further more added parody monstrosity, by Blueshift! - Sweetflank and Harps
- Now with extra TVTropes!
- Featured on EqD, rated 6-Star, for what it's worth!
- Exclamation marks!
Chapters (13)