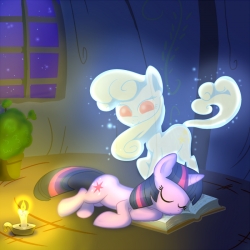 Deep in the Royal Library is a book. A terrible book that is said to send whoever reads it mad. A book so dangerous that it has to be hidden away and secured with chains to prevent it from ever being opened.
A book which has just been accidently checked out by Spike on behalf of Twilight Sparkle.
The Star In Yellow is rising once more, and only Rainbow Dash and Spike can save Twilight before it's too late. Ideas live forever. Ponies do not.
This fic is loosely inspired by the 19th century story 'The King In Yellow'.
Chapters (5)