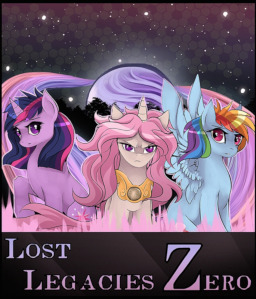 Source
Twilight Sparkle, Apprentice to the Crown, has everything under control. With a sphere of knowledge ever-expanding and a range of powers ever-widening, her world seems smaller and smaller with every passing day. That is, until the day a terrifying vision of the future leaves her convinced that someday very soon, she will take the life of a dearest friend.
Rainbow Dash, the newest recruit of the Wonderbolts, lives in a world without limits. Made of blistering speed and unfettered nerve, she blows past every obstacle that dares to stand in her way. However, when the flight team's training regimen pushes her too far, Rainbow does something she never wanted to find herself capable of.
The Elements of Magic and Loyalty reunite in Ponyville. One must know the answers while the other just wants to run away, but both are on a collision course with a renegade mage desperate to save her imperiled sister, caring little for the consequences of her actions. As the Harmony Storm descends on unsuspecting Ponyville, the fabric that binds Equestria together comes undone, forcing the Elements of Harmony into a race against time if they hope to save themselves, their loved ones, and even the town they hold so dear.
Can Twilight discover the truth behind the Storm before her tragic destiny comes to pass? Will Rainbow surrender to reckless anger if it means the salvation of the innocent? Eyes in the shadows look on all the while, hoping to see the outcome of events set in motion 1500 years ago . . .
From the author of Lost Legacies comes a feature-length prequel made for newcomers and veterans alike.
Chapters (3)