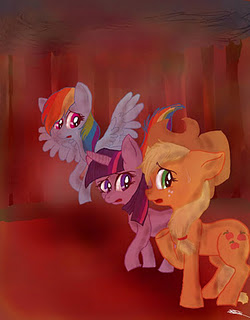 In the midst of autumn's splendor Twilight Sparkle, Spike, Applejack and Rainbow Dash head north to participate in the Hoftston Mare-athon segment of the annual Running of the Leaves.
Yet, as they meet the sea something seems to call Rainbow Dash down, down into the fog and uncertainty that rolls in from beyond the Everfree Forest.
What secrets of old Equestria hide in the deep woods and upon the silent shore?
*Resubmitted following revisions.*
Chapters (3)