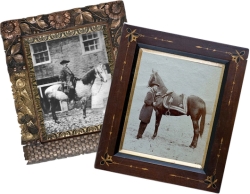 Wander is a city colt who works his way up through the ranks. Green Brier is gentry who holds to his ideals.
No two ponies in Equestria are probably more different, yet they both keep inside themselves a powerful secret. Both of them have memories of a time of horrific war fought by baffling creatures on a distant world. Of those creatures two have shown them what it means to be an officer, to be a soldier...and to be a friend.
In this story, the first of The Somewhere Cycle, Wander and Green Brier share with you, the reader, these memories. See if you can figure out who their beloved masters were and what horse they were in our reality before the story ends!
*Resubmitted following revisions.*
Chapters (6)