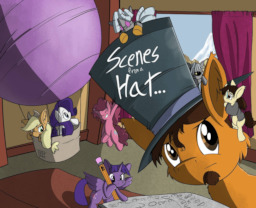 A series of strange and singular stories picked properly from a proliferation of perplexing and pleasing prompts now audaciously authored into an annotated anthology by a meticulous, methodical man in a high, haughty hat.
...Or, to put it simply, this is a collection of tasty, bite-sized stories typically written for speed-writing contests or just because the fancy took me!
I hope you enjoy them! Kindly consider adding it to a bookshelf as stories will be ongoing.
Cover art by Colby Green at Snailbunny Designs.
Chapters (12)