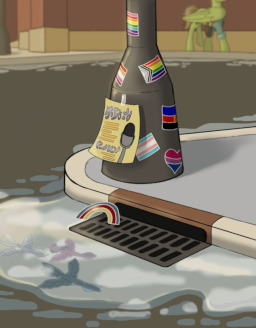 Low Res didn't know what it meant to be special, until she met Lilac Meadows.
Evergreen has a big choice to make. Apple Split has all the faith in the world he'll make the right one.
After Velvet Light's accident, Rocky Storm and Star Hunter are worried about her.
With help from Apple Bumpkin, Ballad gets ready to show who she really is to one of her oldest friends.
And finally, a troubled Autumn Leaf explores what it really means to fight for something.
---
This story is completed and will be updated daily, totaling at five parts.
Each chapter of this story was written for a Quills and Sofas Pride Month contest: part one won first place in the Lesbians contest, part two won third in the Gay contest, and part three placed third in the Bi contest. Part four was written for the Trans contest and part five was written for the 24 Hour Contest.
This story is an entry for Pride and Positivity (Bigots, you know where that downvote button is!)
Cover art by Mushroom, who also preread this story.
Chapters (5)