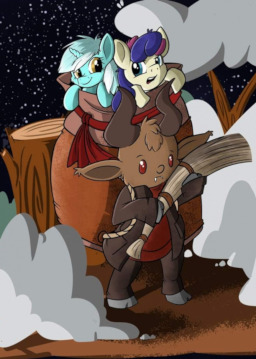 Source
Newlyweds Lyra and Bon Bon want to spend a quiet Hearth's Warming together, but when a holiday-themed monster known as the Krampus shows up and ponies start vanishing, Bon Bon's old monster-hunting agency calls on the pair to stop the creature before it's too late. Can the pair of secret agents take down the Krampus before it's too late, or will their first Hearth's Warming as a married couple end in disaster?
Post Season 9; based on the mythical Krampus of European legend.
Cover image by Colby "Greenfinger" Green.
Chapters (3)