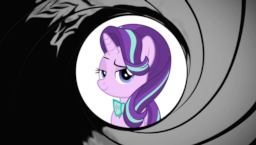 Starlight Glimmer is one of the most trusted members of the Special Branch of the Equestrian Intelligence Service. When the job must be done, she is the one they send.
Sometimes, those missions are filled with action and danger, romance and violence.
Other times, they involve lying prone on a rooftop, waiting for just the right moment to help somepony take a one-way trip to Tartarus.
---
Cover art crafted by my friend CrazyDiamond, using art from a few different sources. He also did the pre-reading, so extra thanks for that.
---
Now with an audio reading by StraightToThePointStudio!
---
Featured 4-27-21 to 4-28-21, peaking in the #3 spot. Thanks, everypony!
Chapters (1)