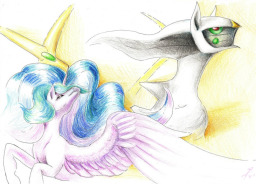 Source
After more than 1000 years of struggles, Arceus has decided that it is time for him and his family to take a break, but what started as a visit to Equestria, becomes a rollercoaster of emotions when Celestia and Arceus begin to develop strong feelings for each other.
Edited by:
"Bronyshot2020"
"Misty Dolphin"
Somehow briefly made it to the feature box on Thursday, July 14, 2022

THX A LOT

Note:
This fic takes place after the events of the MLP Christmas especial ("Perfect Gift") and the entirety of the "Pokémon Mystery Dungeon" saga, this means that I won't be touching the events of the 9th season of MLP as well as the 7th generation of Pokemon (but I will make a little reference about their existence).
Also, I have taken some inspiration from: "A New World A New Way" a fanfic crossover between Pokémon and MLP, written by: "zeusdemigod131"
Chapters (15)