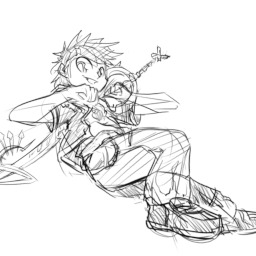 Pain, Loss, adventure, friends and Survival, all of those things I took up when I left Equestria, just to become strong, to protect the ones I love and those that are my friends.
Never have I thought that those things would change me to the teenager that I am as of now.
Twilight, Mom, Dad, Shining, Cadence and you Aunt Celestia I wish you could see me when I was taking that path but, you probably would have stopped me before taking it.
Sora I know you probably don't know me but, I'm your brother.
All those years I've spent knowing you passed away only to find out that you were alive in another world was a mix of emotions, but to be lied to for all those years by our Aunt Celestia and by King Mickey (who is my master) made me angry.
But now that I know you're safe and with Donald and Goofy, I can finally start preparing myself for our meeting, I don't know when we'll meet but if you ever need help, My door is always open to you.
I guess traveling to different worlds wasn't a bad idea after all.
Yerhnam, Lucis, Radiant Garden and others too, each world I visited thought me a new way of fighting or a new spell or style of combat.
I was a student of the first Hunter, the chosen king's friend and loyal comrade, the one winged angle's friend and a keyblade master's Apprentice.
This story will mainly take place during the events of Equestria Girls movies and between them but the first chapters will be set before equestria girls also there will be some flashbacks from the protagonists Jakub about his life when he was in other worlds.
Cover art was made by Marking an artist here on fimfiction all credit goes to him for making the newer cover images that will also be my new profile picture from now on
Chapters (5)