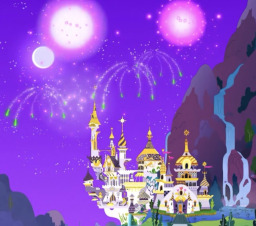 Source
When Celestia decided to send the CMC six tickets to the Grand Galloping Gala. She did it hoping that the three fillies would invite some friends to "liven the night up a bit"… Fate had a different idea.
Thanks to those tickets and the three fillies desire to do something nice for their friends. Princess Celestia and her nephew, the infamous prince Blueblood, will meet two creatures who managed to make their way into the hearts of the two royals. Gabby the griffon and Zecora the zebra.
---
IMPORTANT: Because of life and scholl shenanigans, this fic will periodically update, don't worry I WILL FINISH IT, just don't expect a very consistent update schedule.
NOTE: Because I'm completely unable to rhyme in my own native language let alone English, Zecoa will speak with the same speech pattern as Yoda from Star Wars (not all the time thought as not even Yoda talks talks that way all the time).
Please understand that this is not me being lazy, it is just that I would rather tell the story I want even though it's not in an ideal way. (if you have more doubts about this please check the writer's note in the bonus for Chapter I).
Takes place after the events of Season 8 and "The Best Gift Ever." The events of Season 9 aren't canon for this fic.
Big thanks to everyone in the FiMFiction discord server for helping me with some edits as well as my nonsense regarding this fic for the last half of the year

.
I apologise for any grammatical mistakes, I'm not a native English speaker

.
Chapters (2)