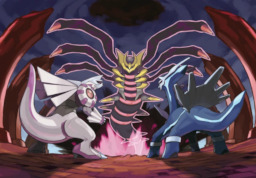 Source
After the climatic battle between the two Legendary Pokémon who rule over Time and Space respectively. The Ruler of the Distortion World did not find this sight to be pleasing at all, forced to watch over the Distortion World as it is linked to the Pokémon World. Giratina couldn't do anything but watch, if he were to interfere in the conflict between his fellow brethren then the destruction that was already caused would've worsened if the representative of Ghosts-Types indulged in such matters.
The distress of worry soon turned into anger for the Dragon, to not only watch his World crumble, but as well for the World that they created together since birth.
With the battle destroying the Planet and every living creature on Earth. The Distortion World was no longer linked to the Universe of Pokémon.
Instead of dying with his now destroyed World, Giratina was instead transferred over to a new Realm filled with Dragons, Griffins, and.. Ponies?
Chapters (5)