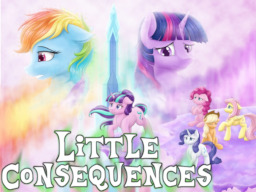 Source
This story is a sequel to Little Choices
---
In the aftermath of the fall of Canterlot, Princess Rainbow Dash and her friends have found themselves in the newly restored Crystal Empire, seeking a power that they can use to push back Queen Chrysalis and save Equestria. But with the history of the Empire shrouded in darkness, finding this power will prove a challenge.
To make matters worse, a shadowy presence lurks at the edges of the Empire, and the Changeling Swarm will only take so long to discover where the last remaining princess has gone. The pressure is mounting, and even though she feels she isn't cut out for this, Rainbow Dash must step up to her station and lead her friends, and the Empire, to save Equestria... or lose everything she holds dear.
Cover Art was drawn up by the absolutely incredible Novaintellus. They are one of my favorite brony artists, so please, go show them some love!
Never thought I would write a story that necessitates this, but beware the spoilers in the comments!
Chapters (62)