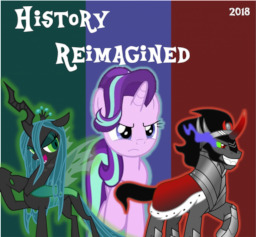 This story is a sequel to History Lesson
---
New chapter published bi-weekly.
History Lesson is strongly recommended as prior reading.
(Spoilers for History Lesson.)
(Duh.)
When Starlight Glimmer sabotaged the first Rainboom, she inadvertently created eight broken worlds. In this the eighth world, Chrysalis, Sombra, and a resistance led by the new Element bearers wage war against one another for control of Equestria. Princess Twilight Sparkle has tasked Starlight with restoring harmony, hope, and love to this version of Equestria; but with so much war, death, and destruction, can life ever return to the way it was supposed to be?
History Reimagined follows the path of a hypothetical eighth fallen timeline not depicted in Friendship is Magic.
Non-Con tag for implied acts only.
Cover art credit: Chrysalis vector by TwilightSpark2112 (wings edited to be transparent). Starlight vector by Uponia (body) and LolliponyBrony (head; edited to change facial expression). Sombra vector by 90Sigma.
Chapters (10)