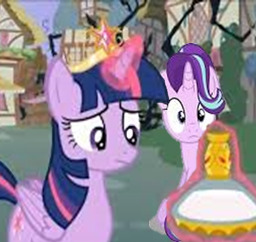 After the timeline goes awry for the eighth time, Twilight Sparkle convinces Starlight Glimmer to journey with her through the most recent world she created, using her alicorn magic potion to safely view one of the tragic timelines. As the world spirals farther and farther out of control, Twilight fears the vision may be doing more to strengthen Starlight's resolve than to bring her to an understanding of her mistakes.
Starlight Glimmer vector by itv-canterlot on Deviantart
A good portion of chapters 1-3 debuted in the Writeoff event "Forbidden Knowledge"
Red tags for mild gore and fantasy violence.
Chapters (10)