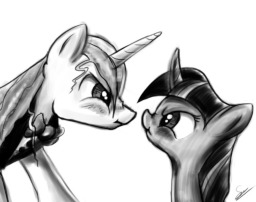 It seems that no amount of stalling, negotiation, or bargaining will stop the council.
Since Princess Twilight's coronation, the Royal Council have insisted that she be tied to a Canterlot noble, so as not to lose their hold over the lands south of Canterlot.
Tied in marriage, that is, and they've got just the pony in mind, whether he's got a say in it or not.
A commission for Dusk Raven. Cover art here.
Chapters (3)