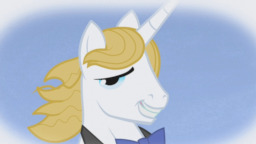 Source
When Rarity blew up at Blueblood at the Grand Galloping Gala, it was a turning point for the young stallion. He learned once more to apologize, his beloved Aunt Celestia said she was proud of him for something of his own doing, and upon reflecting, it made Blueblood think;
Am I worthy?
Do I deserve to be here?
If so, why am I here?
Those questions, he could not answer. But that is why he left; to use the gift instilled upon his flank and find out those questions with the hope of returning as a better pony.
A good pony.
A great pony.
Warning: If you hate Blueblood, this is not a story for you. What would one expect from such a title?
Chapters (18)