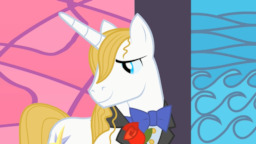 Source
Having been sent to a foreign country in an effort to cease their attacks on Equestria's shipping and perhaps prevent a war, Prince Blueblood and Shining Armor find themselves under the attention of the mighty Margess, ruler of the brutal Principate.
While Shining Armor goes to conquer their renowned gladiatorial arena, Blueblood must do what he hates most: speak the truth.
Winner of Everfree Northwest 2017's Iron Author competition. Preserved in its original form save for a few slight word changes and editing.
Chapters (1)