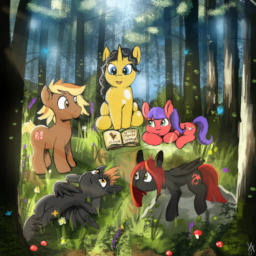 The village of Brightly, British Columbia, Canada, has a deep and storied history as a coal mining town which slowly faded as ships stopped using coal for their boilers. Nowadays it is a quiet, isolated community nestled within the forests of the Pacific coast. It's the kind of town where everyone knows everyone, and folks look out for each other. Those bonds of friendship and community are tested when some of the inhabitants begin to turn into colourful ponies with strange powers and abilities...
Created with the assistance of my editors: Sandstorm94, Coyotethetrickster, Rejara and other foolishbrave souls.
Welcome to my very first commissioned story. Thanks to the kind support of my patron through Patreon I am able to try my hand at a kind of story I've never written before. This story will be updated monthly for as long as my patron wishes to pursue it.
Cover Art by Gab0o0
https://www.deviantart.com/gab0o0
A story from The Canary Files
Chapters (47)